It's a bit chilly too. But I don't want to put my jacket on.
Today is my last afternoon here and I still haven't done everything I came here for. Certain that there's no more time to add to my check-list, I decided instead of going for the most important ones, just relax and return to the island someday. Sifnos is not a five day stay. That will only get you a small taste; you always want more, so you return.
Talking about feeling empty, I literally felt hungry! I'll resist as much as I can though. First the stroll I promised myself up to the mills of Artemonas. The view must be fantastic from there and I want to take some photos! Park the car and off I go.
I parked at a different lot, not the one I was going for! At a 100m, I see the "big parking lot" of Artemonas' square, but it's OK; I'm here to walk. Pass it by and on my way. The main cobbled alley is beautiful. Old mansions with large gardens, in harmony with smaller Cycladic houses. Paved front yards, with thin white partings and bougainvilleas in bloom. Painted flower pots with well-groomed flowers. Not a trace of litter anywhere. Not one cigarette-butt! That's why Artemonas is nicknamed "classy". For its dwellers are classy; not for its big houses!
I'm not going to narrate on my stroll, so you seize the chance and do it yourselves, to explore those back alleys left and right. So worth it!
But, I'm going to tell of that other experience I happened upon!
Returning to the parking lot, that small one i mistakenly got in, the sound of Cretan lyre caresses my ears. A lyre? On Sifnos? Must be a wedding! I thought to myself. Sat down for a cigarette, to enjoy its melodies before returning to the car. Maybe get a view of the bride. No bride, or groom to be seen though. Just this small tavern, down the street, where two lads were rehearsing. "Yanda", the name of the place. Yanda not? [Yanda = why] I reckoned and went in for a sip of tsipouro.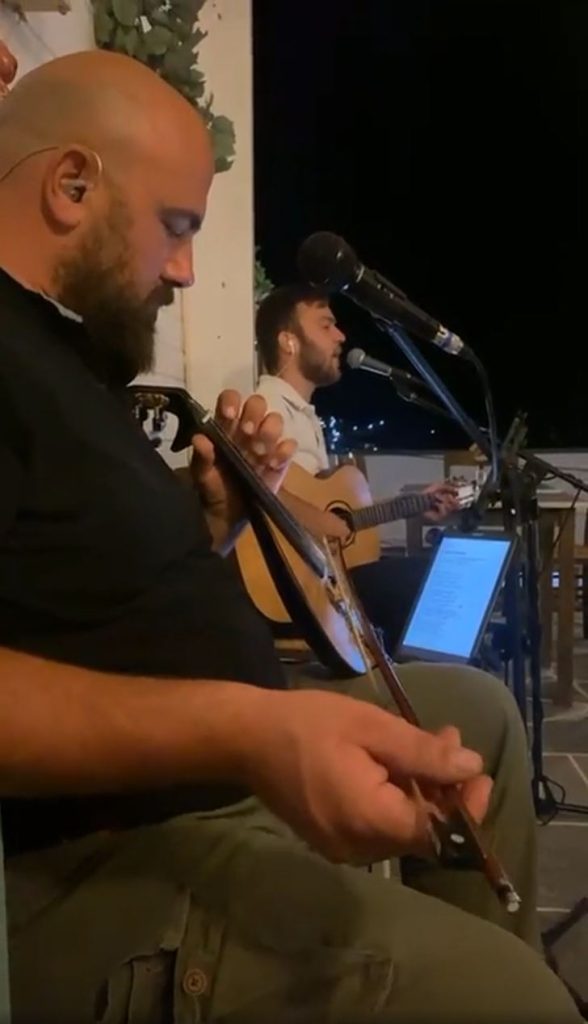 As you know very well, one is never one! It was early, the place was empty. There's Yannis coming with tsipouro (the owner), sitting down to have a chat. Costas was already preparing snacks and we were downing tsipouro like it was water! Why don't I phone the guys up? I thought. In twenty minutes, Marinos and Eleni, two friends I met just the other day, had arrived. And then a series of grilled and fried dishes, homemade meze treats! 8 small carafes were done with till live music went on. Luckily, the setlist had just a few Cretan songs; I wasn't prepared for such a treat. Beautiful songs, finely delivered on a lyre and guitar, so much fun! It's a shame I'm leaving tomorrow. It's a shame I discovered Yanda on my last night. Another reason to return to Sifnos had just been added to my check-list…