My last day on Sifnos; almond sweets for friends and family already shopped; rest of the time spent browsing around the shops at the port, until I board the ferry and leave, later in the evening.
I make the mistake to call my mother on the phone; I hear her nagging… "Listen, you can't leave Sifnos without buying any pottery; the island's famous for it… Are you serious?"
I totally hate lugging. Now what? How am I supposed to get them their pottery?
And then, as I'm walking around and thinking of what to do, I see a sign: "Katerina Pottery". Hmmm. Shall I then? It's right next door…
I follow the signs and enter a back alley just past the church.
Walk down another 50m along the port street and find myself in her store.
Friendly and agreeable Katerina. At her workshop/outlet, in a little oven, she crafts up wonders. A huge relief! I find small pottery, unique ones; lugging's off the hook too, but what's more important, I've never seen small clay ware of this kind ever before. I want to buy everything! Strawberries, almonds, walnuts, fruit, olives, small fish… they all look so real!
I pick out one of each and arrange them in a nice bowl; there's my amazing fruit bowl, full of clay ware made by Katerina's magic hands.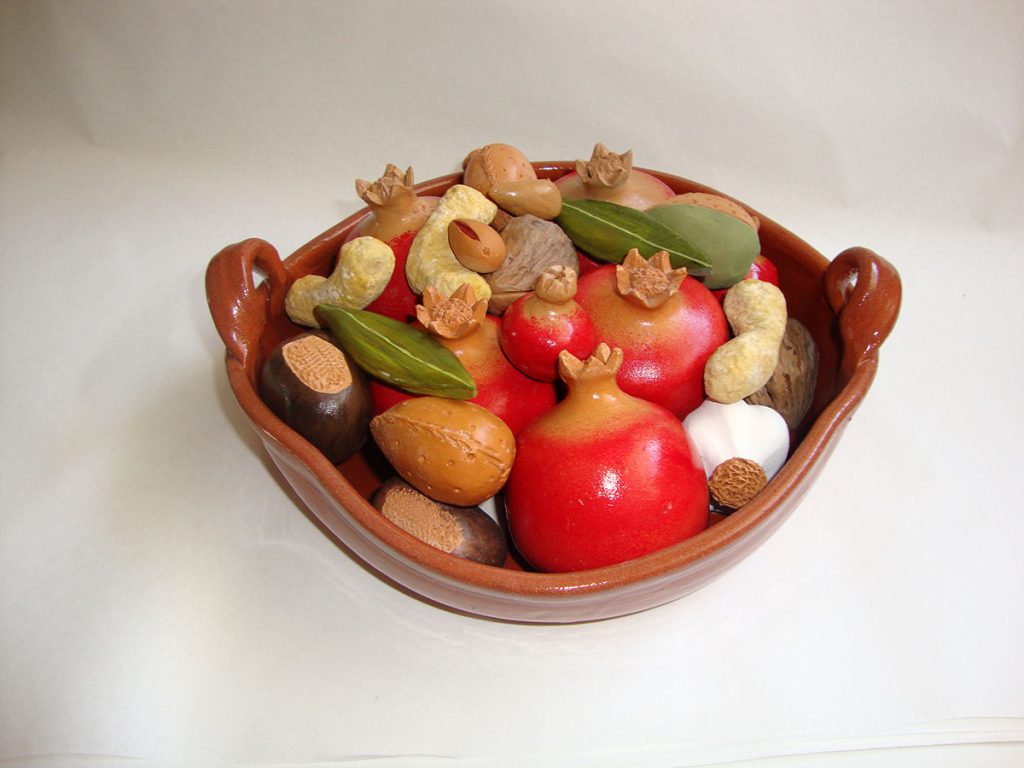 I'm stoked thinking what a nice surprise this will be for my folks. Bid my goodbyes to the potter, who chose to express herself in such a distinct way and start walking towards the quay to board the ship. I thank my luck for finding this magic little shop!
If you find yourselves on Sifnos, just look for her; it's not hard. Almond sweets are fine alright, but those little clay works of art look so real; you can't eat them so getting fat is out of the question, and they are true gems!