I was told that it's windy in the Cyclades, but I kept saying "Come on, man, there's lots of windy places, anywhere!", which is true enough, but I spend my holidays here and that's the place I'm talking about. A week in, on holiday, and we're knackered! North winds, 6 Beaufort strong and a bit of a 7.
But… my motto is: "If one's in a good mood and not a GRINCH, fun is bound to be had anywhere!"
After taking a windswept dip the other day (winds being ever present…) and because we had enough meatballs, by the sea, sprinkled with "golden" sand, we considered checking out our options of having lunch at one of the main villages. We took the bus and rode down to Apollonia's centre where, right across of the bus stop, we saw a sign reading: traditional TAVERNA-MEZE-PIZZA "I Orea Sifnos" (= Beautiful Sifnos). Another sign going: Idyllic back yard!
The kids read PIZZA and got psyched! PIZZA, PIZZA (they chanted in unison).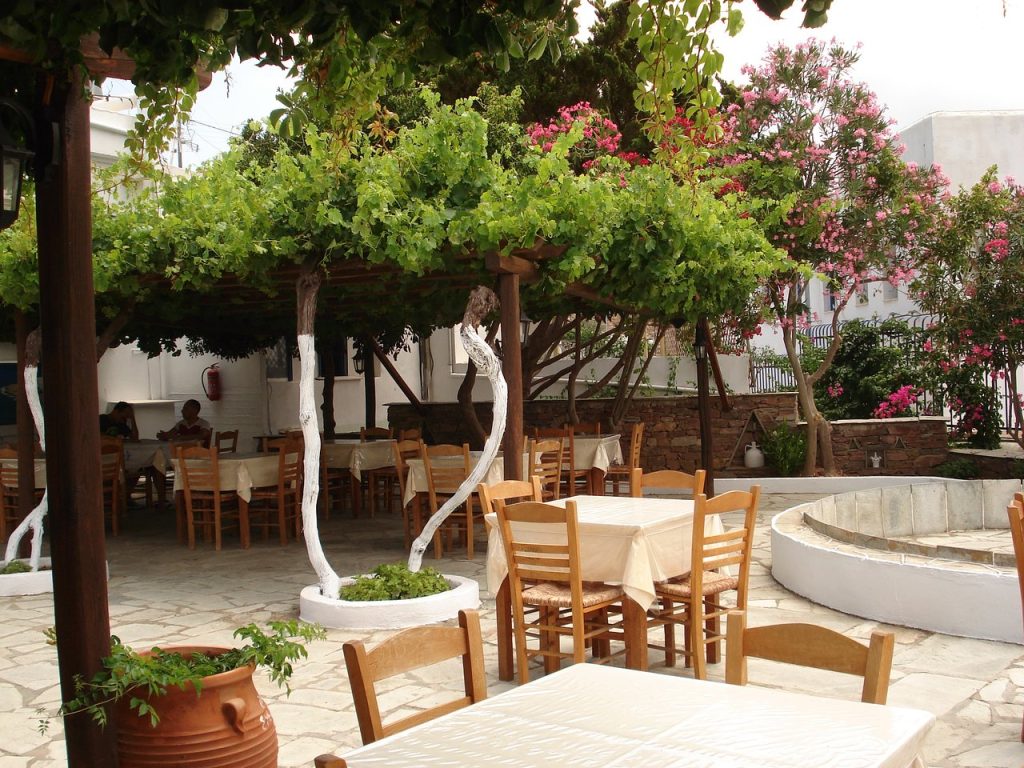 The long name on the sign was a bit of a let-down, for me, but I went along anyway.
The first sight was a friendly and warm smile from Yannis who led us to that back yard… 'idyllic' indeed!
A 'pergola' (what we used to call 'vine' back in the day) brimming with grapes and beneath it a swarm of tables, in the cool shade and… no winds! Hallelujah!
Yannis comes over to take our order and right off says: "What's your drink?" One fine man!
Then he rolls out the menu. Ample, lots of options, meat dishes, stews, pizzas (with their own handmade dough, no less!), appetisers, pies, in short all you'd expect to find at a taverna-meze-pizzeria place.
And it all tasted good and honest, no frills scrumptious. That classic Greek village taverna.
We'll definitely return for we crave for that pizza, the one literally devoured by the kids, the one they never gave us a chance to even touch! "You eat your healthy stuff!", we were told instead!