Yes, this is said without second-guessing. A real gem of a guy that has never failed me or any of my friends.
We have been to Sifnos over ten times now. Mostly in recent years. Although we moved to Cyprus a few years back for reasons of work, our summer holidays are always spent here in Greece. So, this year it's Sifnos once more. Three days in Athens and another six at our "holiday house", as my young daughter calls the room we usually stay at on Sifnos. You got that right. We don't own any holiday house down there. Our "holiday house" is Dimitri and Irini's Hotel.
Second day comes with gusts of wind. We used to hate it. We like it now. If you spend a summer in Cyprus you'll know why. We're traveling to Fykiada today for a swim. It's all on foot and I'm not in the mood, but have promised Dimitra, my wife, and the little one is really looking forward to it. I had them both, though, promise me that on our way back we'll stop at Stamatis' for lunch (and beers).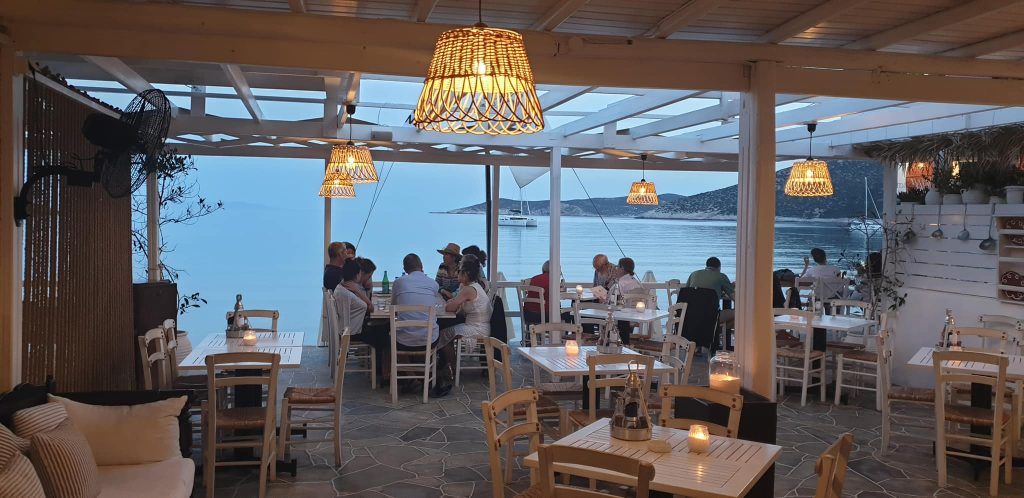 Three hours later (three quarters of an hour to get there, another three to return to Platys Gialos and an hour and a half on the beach) and I find myself –at last– sitting comfortably in my armchair in "MISSO-MISSO" –that's what Stamatis and Anna call their restaurant. We'd order meat dishes but little one wanted octopus. That's a rare one for her to say, so we switched to seafood quite agreeably. Roast sardines, squid, prawns, salad, roast mushrooms and of course octopus! All scrumptious. A real gem of a guy, Stamatis. Never has he failed us in years. Eventually, as expected, the little one never took one bite off that octopus. She ordered haloumi […] We got her meatballs, of which she ate all but one! Foot walk made her hungry…
Oh… Sifnos! Greece! Holidays!