How much "Symi" is your "Symi shrimp"?
That's one constant nag of mine! When the menu lists a "Symi shrimp", it has to be a true "Symi"!
I'm not the kind of bloke that goes head-over-heels for shrimp, but I do love a "Symi".
Small, long-headed, red, fragrant. It's not in abundance, as it only lives in the Dodecanese area and surely has nothing to do with that small Atlantic or Indian Ocean shrimp we get, frozen! So, when shopping for Atlantic shrimp, list it on your menu as "small shrimp", not a "Symi"!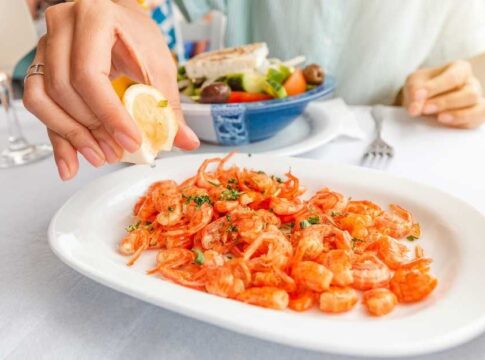 First things first, though.
At Chryssopigi the sea is cool. "It's always been like this here", I was told. "Go over to the left side of the beach, the sandy part. Kids will like it more". Which is true. At the right hand part, for the first few yards, the sand is petrified. Further in and you find fine golden sand all over. The left hand side though has got rocks. On the side. The kids queue for dips and dives! Like us when we were kids. Our parents used to call out for us to get out of the water for hours and we responded with "last dip" to continue with climbing up the rocks and dive off until our water-wrinkled fingers had no more hold. "After your dip, come over to the restaurant" we said and set off for the taverna you see on your right hand when facing the sea.
We didn't wait for the kids to place our order. No reason for that. They were hanging out with their friends, supervised by their parents. So, Lempesis (Chryssopigi taverna) has a "Symi shrimp" on the menu. And, yes, it is the one and it's as fresh as it gets! Incredible aroma, unique taste! Crunchy on the outside, take a bite and it breaks in a juicy explosion of sea and childhood memories aromas.
I'm not picky, but, honestly, I never saw this coming. The taverna overlooks the sea, best view on the island. Looking over the rock of Chryssopigi. That location is bound to be a crowd pleaser whatever the menu! Though, everything we ordered was amazing. Exquisite taste from quality materials. Easy to tell. Make sure to visit. You'll thank me.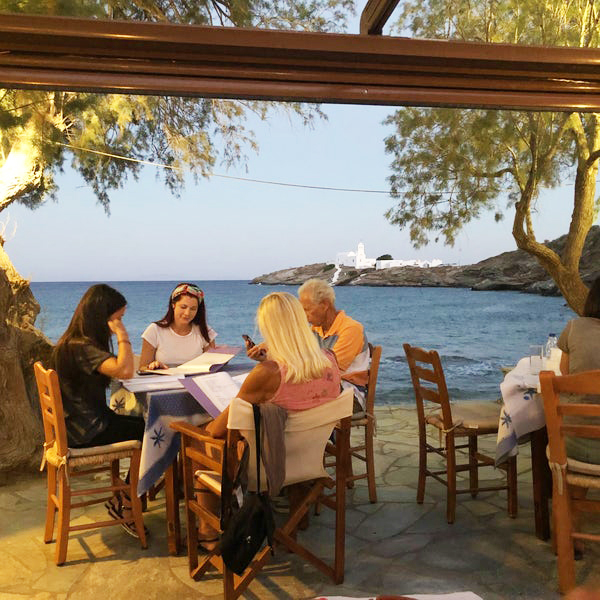 Almost an hour in and the kids are still out in the sea. We'll get something to take for them back to the room. They must be knackered by now. Let's go collect them…